Gulliver Travel received Zlatna Kuna award!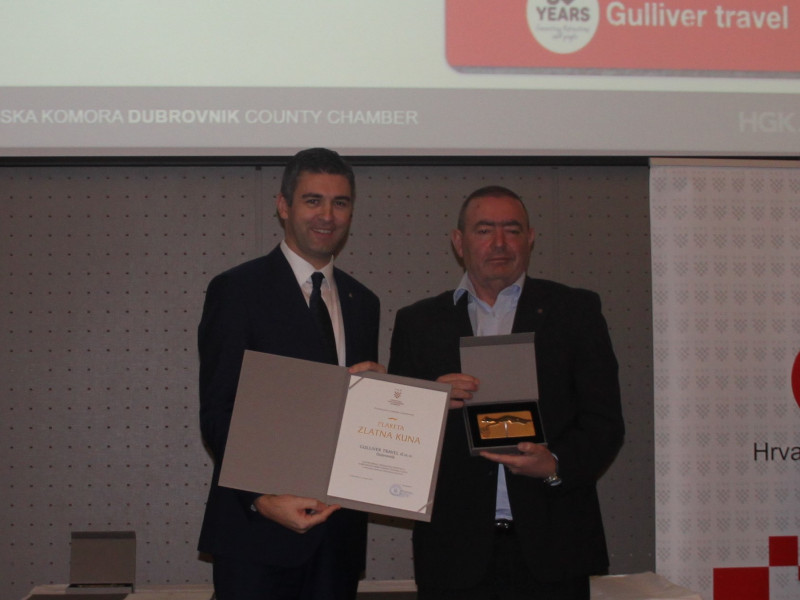 Gulliver travel received the 2019 Zlatna Kuna plaque in the category most successful medium enterprise
(Dubrovnik, December 5, 2019) The Croatian Chamber of Economy's Dubrovnik-Neretva County office today awarded the Golden Kuna plaques and the Dubrovačka Vidra Award at a ceremony held at the Sheraton Hotel on the basis of the 2018 results.
The Golden Kuna plaque and the Dubrovačka Vidra Award are awarded annually to the most successful companies for their business success and contribution to economic development in the Dubrovnik and Neretva County. This year's formal session was held at the Sheraton Hotel, where Golden Kuna plaques were awarded to large and medium-sized enterprises and Dubrovačka Vidra Award to small businesses.
Deputy Mayor Žaklina Marević addressed the gathering, stressing that businessmen and entrepreneurs are the ones who enrich the image of the county. ''These awards, which are awarded for business success and contribution to the Croatian economy, are evidence of concern for enterprises and I believe the impetus for continued work and effort. As a tourist destination in the hotel industry, our guests get more than expected, and as the most beautiful county we need to preserve and work on our image, both Dubrovnik – The Pearl of Adriatic and the whole county'' said Deputy Marević.
Gulliver Travel was awarded the Golden Kuna in the category of medium-sized enterprise and the award was presented by Dubrovnik Mayor Mato Franković.
The plaque was presented to the CEO of Gulliver travel, Goran Hrnić, who emphasized on the occasion that he was not a supporter of such recognitions because they are mostly awarded by preferences. ''I was pleased to accept this because it is based on concrete indicators, not voting and one's sympathy. It's hard to get any recognition for two years in a row. We have already received various awards and recognitions, but if we were to run again after being awarded, we would be told that it was someone else's turn. However, the Zlatna Kuna award is slightly different, in a sense that is not a recognition that can be obtained ''for a song'' but is awarded based on concrete indicators and business results, so we gladly accept that kind of recognition'' said Hrnić.
We remind you that Gulliver Travel is a leading destination management company in Croatia and the region, and in February this year, we celebrated thirty years of a successful business. We record successful business results year after year, and in 2019 we exceeded our original plan by 30%. Although this is not visible in the number of guests and the number of arrivals that was realized, with the rationalization of business and new products we are positioned significantly better than last year.
Along with Gulliver travel, Elite Travel d.o.o. and Nautics d.o.o. were nominated in the category of medium-sized enterprises. Sun Gardens Dubrovnik and Adriatic Luxury Hotels Group were nominated in the prestigious category for large enterprises, along with the winner Dubrovnik Riviera Hotel. In the category for small enterprises were nominated Hexogen Ltd., Phobs d.o.o. and winner Platanus d.o.o.
The recipients of the Dubrovačka Vidra Award are Algebra d.o.o. from Dubrovnik, Bipas system d.o.o. from Metković, Cicrina d.o.o. from Lopud, Constructor of Hotin d.o.o. from Blato, Reor d.o.o. from Dubrovnik, Viticulture and Enology Crvik d.o.o. from Komaj, and a special award was given to the company Dubrovačko primorje d.o.o. for 40 years in business.