Gulliver Travel – the best DMC in 2015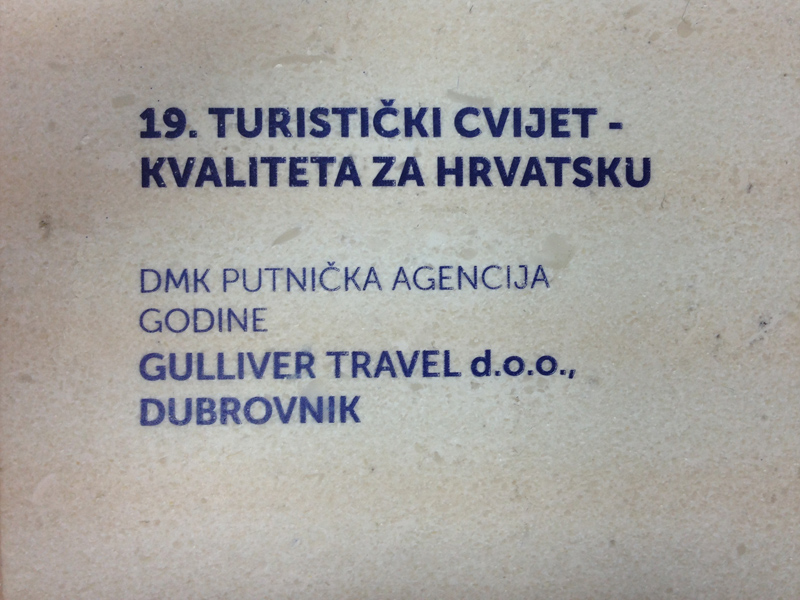 Gulliver Travel voted the best DMC at The Tourism Flower – Quality for Croatia Awards
PRESS RELEASE
(Poreč, 14th October 2015) At today's prestigious presentation of tourist awards Gulliver Travel has been voted as the best DMC at The Tourism Flower – Quality for Croatia, part of The Croatian Tourism Days 2015 event held in Žatika Sports Hall in Poreč.

For 19 years in a row, the Croatian Chamber of Commerce has organised The Tourism Flower – Quality for Croatia that gives acknowledgements and presents awards to businesses in tourism sector. As of this year, new categories have been introduced in awarding business sector, one of them being the selection of the best DMC. The evaluation methodology and process itself have been devised and undertaken by the Association of Travel Agencies at Croatian Chamber of Commerce and the Association of Croatian Travel Agencies.

Gulliver is very proud of the award that comes as a result of years of successful business and represents another proof of high quality of our services that is one of the basic characteristics of our products.

In our business generally, special attention is given to monitoring trends and reacting in a whole range of new differentiated and unique tourist products/programmes. In developing new products, the main guidelines are uniqueness, creativity, sustainability, innovation, originality, exclusivity, discovery of new undeveloped tourist locations, involvement of local population and their products/services, authenticity. In creating such products, one of Gulliver Travel's basic goals is to extend the tourist season and promote international recognisability of Croatia as a destination of excellence and diversity.

We have been developing specific product lines named Wine&Dine, GEAR (Gulliver EAsy Ride) and Gulliver Adventure for a while now. Each line is distinguished as a particular brand. Programmes are taking place all over the country. International tour operators are interested in these products; they have also won awards like Simply the Best (in 2012 for Scenic Train Ride Through Konavle Valley; in 2013 for Gulliver EAsy Ride – Veiled Riviera; in 2014 for programs in new Gulliver's brand Wine&Dine).